What is Hopping.io?
Hopping.io is a rapidly expanding website that rewards you for your online activity. We have implemented a radically new approach to data analysis by providing information technology companies with real user engagement while simultaneously rewarding participants for their input.
While it may appear as a simple game on the surface, there is much more going on behind the scenes. By participating on this platform, you assist advertisement networks in testing campaigns, help companies process data clusters, and even contribute to the training of AI models of various sizes. All of this happens in the background while you enjoy simple games and complete other quick tasks.
In an era where computing power and quality user engagement are becoming vital resources, our business model is designed to provide value for data companies while also rewarding our users for actively participating in the process.
---
Please note that Hopping.io is currently available in public beta mode, and registration of new users may be temporarily limited at times to ensure consistent service quality.
Yes, creating an account and participating is completely free of charge.
Hopping.io provides data and model training services to both of these industries.
Simply click on the character to jump and break mystery boxes. Each time you break a box, you will find a random reward inside.
By clicking on the character and breaking boxes, you provide AI training, ad analysis, and similar data in the background. Each destroyed box represents a block of processed information in our system. In a way, it is similar to gamified cryptocurrency mining.
Start by making sure that your
User Profile
is in good standing according to all the main criteria listed on that page. Accounts with good standing will automatically be rewarded more. Also, the total hourly rewards amount increases or decreases depending on the total amount and quality of the work done that hour by all users on our system.
Energy points are required to play our game. One energy point allows you to break one box.
The game acts as a way to track your activity and convert computing power into earnings. We analyze each block of information and reward users with cash or points based on data quality and many other factors.
No, any automated playing is strictly prohibited. We monitor for scripts, bots, fake referrals and similar exploits and remove users who violate this rule. Rewards gained by using automation will be considered cheating and will not be paid out, additionally resulting in permanent account termination. This platform is created for real users and it is the only way we can sustain the model and reward our honest participants.
While playing the game or using other website features, in the background, you provide AI resources and ad analysis to our partners. This is why ads pop up from time to time. More ads mean that your account is deemed more valuable for the analysis tools and falls into a higher tier overall.
Our users can get rewarded with on-site cash (Hopping bucks) which can later be converted and withdrawn using many popular crypto and traditional payment options or spent on internal features (e.g. website visits).
The best way is to make sure your
User Profile
is in good standing according to all the main criteria listed on that page. Accounts with good standing will automatically be rewarded more.
Head to the
"Withdraw Balance"
section, choose your favorite method, and enter your wallet address and desired amount. Some restrictions may apply for certain methods, including daily and single transaction limits.
We restock several times per day. However, stock sizes and payout priority depend on user profile tier and overall activity level. This is why payout availability may differ per account.
Points are an internal website currency. You can earn them for your activity just like cash rewards; however, the usage differs slightly. Instead of being able to convert them into cash or crypto, you can acquire internal platform features and boosters using your points balance.
Any winnings you accumulate will remain in your account balance until you choose to withdraw them or utilize them for other internal features (e.g., to order website visits in our surfing system).
No, you can conveniently visit Hopping.io on any device or browser and login without downloading any additional software.
We welcome users from all countries. However, reward sizes may differ according to your location. Before joining, it is essential to exercise due diligence and verify that the site adheres to your local laws if you have any concerns.
It is highly discouraged to use Proxy, VPN or mask your real IP in any way. Our algorithm learns your location tier over time and Proxy/VPN traffic is always placed at the very bottom, directly affecting the User Profile standing and the amount of rewards.
No, we strictly limit each individual to having only one account. Creating additional accounts or engaging in fraudulent referrals will lead to permanent account blacklisting on this platform.
Only your email address is required to create an account. However, you may be asked to voluntarily provide more data by some of the third-party providers in order to receive certain rewards.
Reach us via
[email protected]
to discuss using our platform for your AI, ad training, data analysis and other services and partnerships.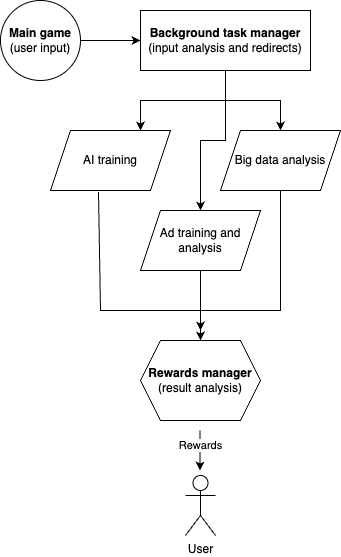 ---
This is a simplified chart model to illustrate the data flow, feedback and decision making behind our current rewards system.
Back to website
Hopping.io is AI data analysis and gaming platform service with an exclusive user activity rewards feature. This service does not require or accept any form of monetary deposit. In order to ensure transparency, detailed policies regarding platform management, account balances, and rewards are explicitly disclosed within the dedicated section of our Terms of Service. Please note that in order to use the service, browser Cookies must be enabled. You can learn more about Cookies and our data management practices in the Privacy Policy, which is a section of our Terms of Service.